How It's Done
I have decided to start an on going thread called "How it's Done". This will be an informative and educational    thread to show how things are done in the Machine Shop
40 years & still moving along 



                   New Cylinder boring bar stand.

My background is a lifetime in the Machine Shop. I'm now 65 and started boring cylinders some 40 years ago. As you all have probably noticed from some of my comments, I also have a lot to learn. We all must humble ourselves and learn something new each day. Please chime in when you have some good ideas to share with the readership. Most of your replies to my stumbling comments have been polite and constructive. Please keep a positive attitude with your replies and it should all be worth our efforts.

Since I've become a member of E2S, I'm starting to see a lot of the JUNK work which others have paid a lot of money, only to end up in disappointment. I'd like to show and explain how things would be done from the "Old Dog" perspective. No Jetting, Timing, Pipes or Dyno tuning. That's for the rest of you folks who know about that kind of stuff, Jump in   
Measuring tools: This is an example of some of the Junk which floats around and the tools used to help avoid some of the problems.
   When some close measurements are required, you need to step up to a micrometer and dial gauges.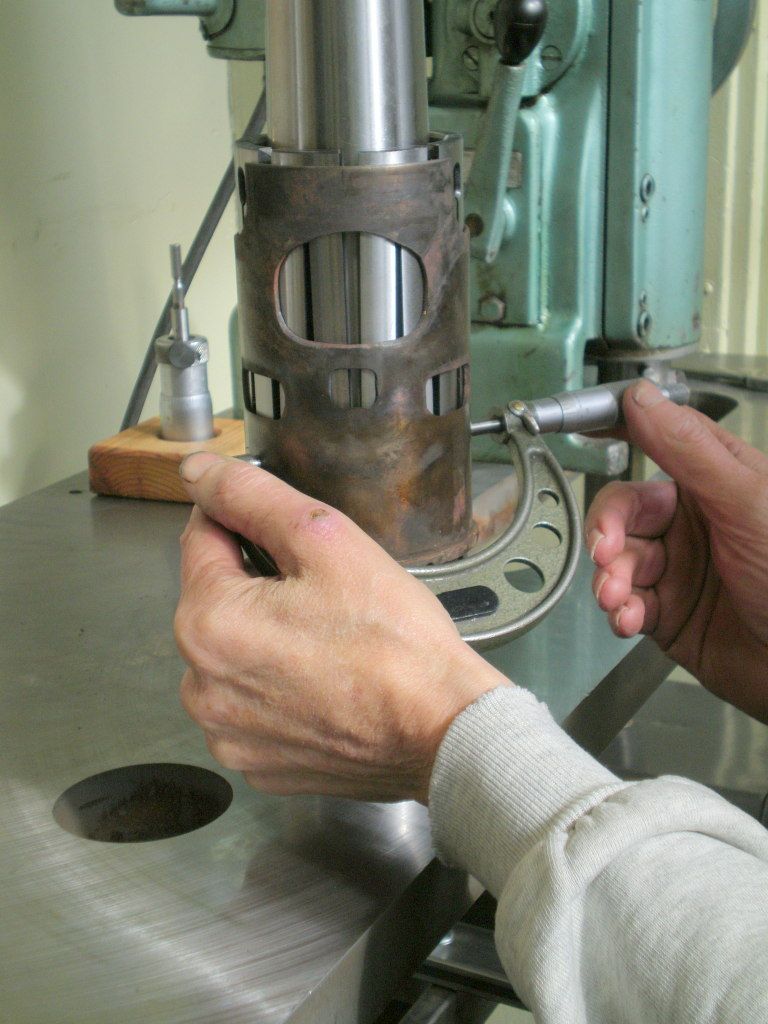 A 250cc cylinder converted into a maximum Big Bore engine. The bore is so large that there is no Head Gasket surface left. Common sense would tell us that this isn't a good idea.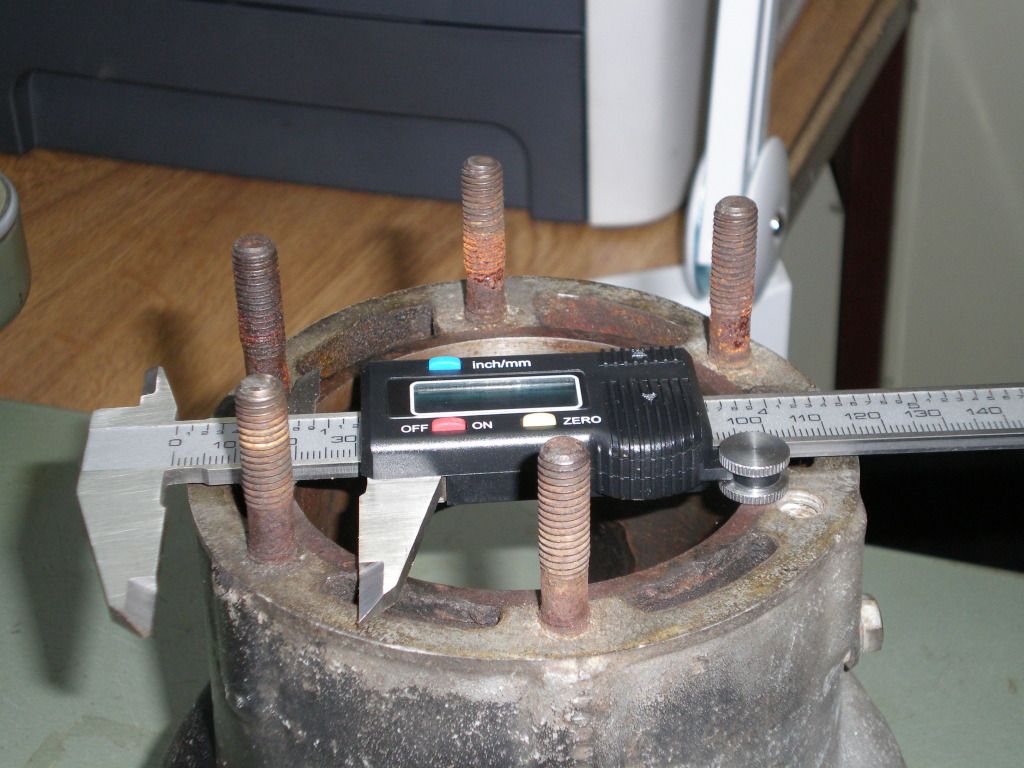 Sometimes a sleeve needs to be mounted on a Mandrel in order to get accurate measurements for calculating the Squeeze fit.

The Dial Bore Gauge is the work horse in the bore measuring department. A little spendy, but well worth the investment. When you farm out your cylinder machine work, you can check up on what your engine guy is really doing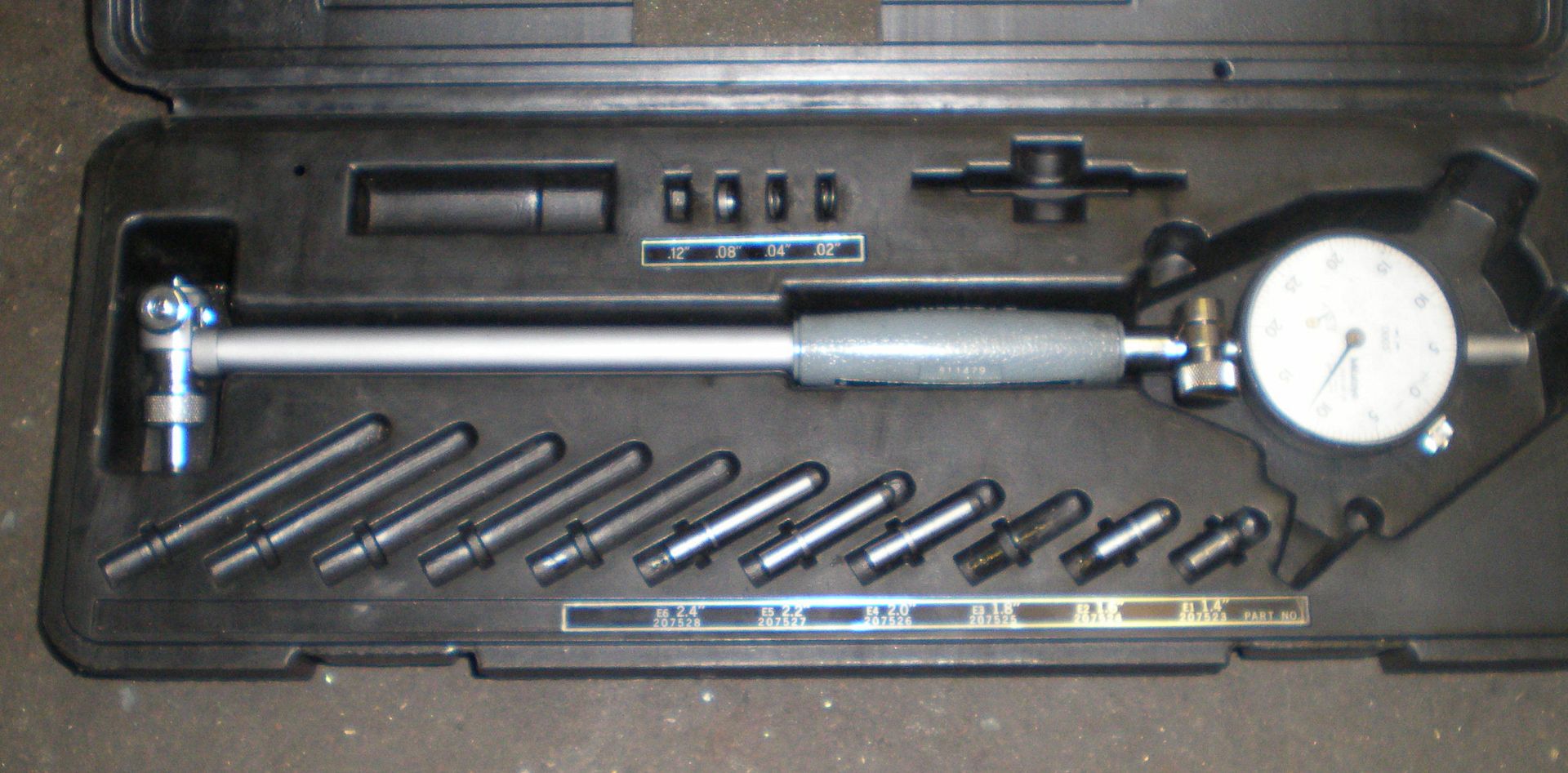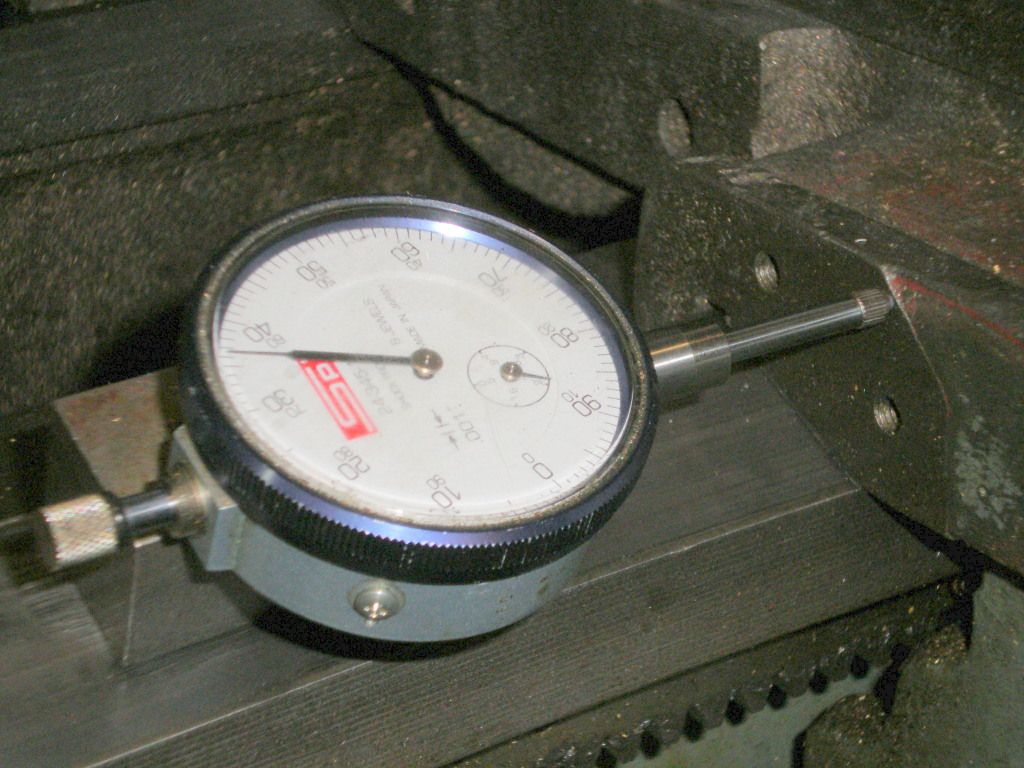 Measurements on the lathe. Over time, you'll get a Feel for your tools.
A minimal invest in precision measuring tools is a fine addition to your tool chest.
Preparing your Cylinder for top end machine work
In last weeks comments, A person asked about measuring and calibrating techniques.
Some time ago, I was asked how much a sleeve job costs, We'll talk about this. There can be many answers to both of these questions.
Consider the hourly rate. Since it's easy to work with we'll use $60.00 per hour, or $1.00 per minute. If a bore job takes 1/2 hour the charge might be $30.00. What drives us machinist's crazy is the preparation for a bore job. Pulling the Studs & Locating grommets, Preparing a smooth & flat gasket surface for chucking in the boring stand.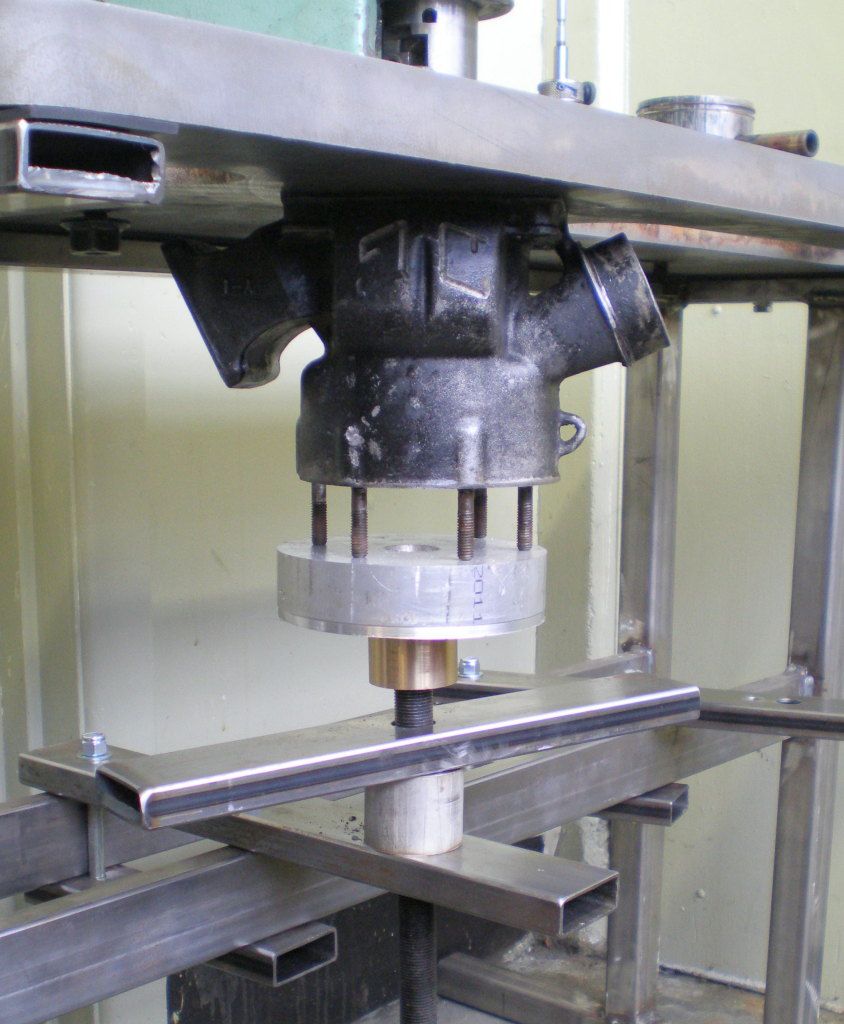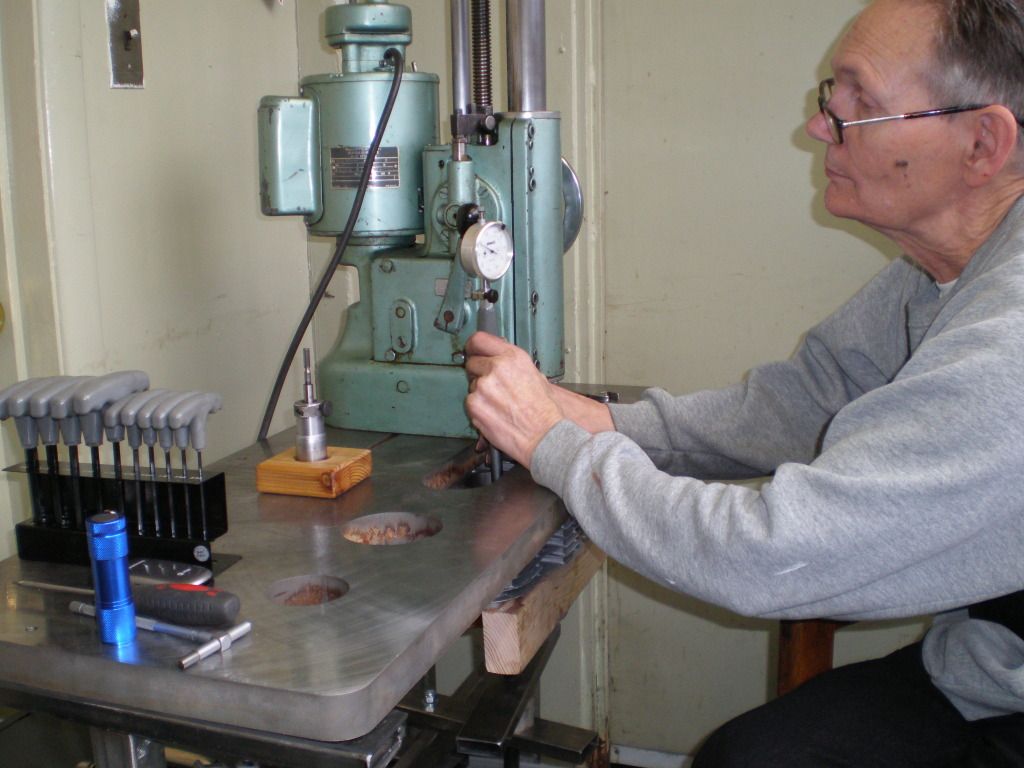 This is a simple tool and a necessity when working with your cylinder. It's a little hard to decipher, I call it a Torque bar. Just clamp the bar to the (cylinder base gasket area), in your vice instead of attempting to clamp the cylinder. I used a scrap peace of aluminum tubing. The torque bar will be full of holes after you drill it for a few cylinders.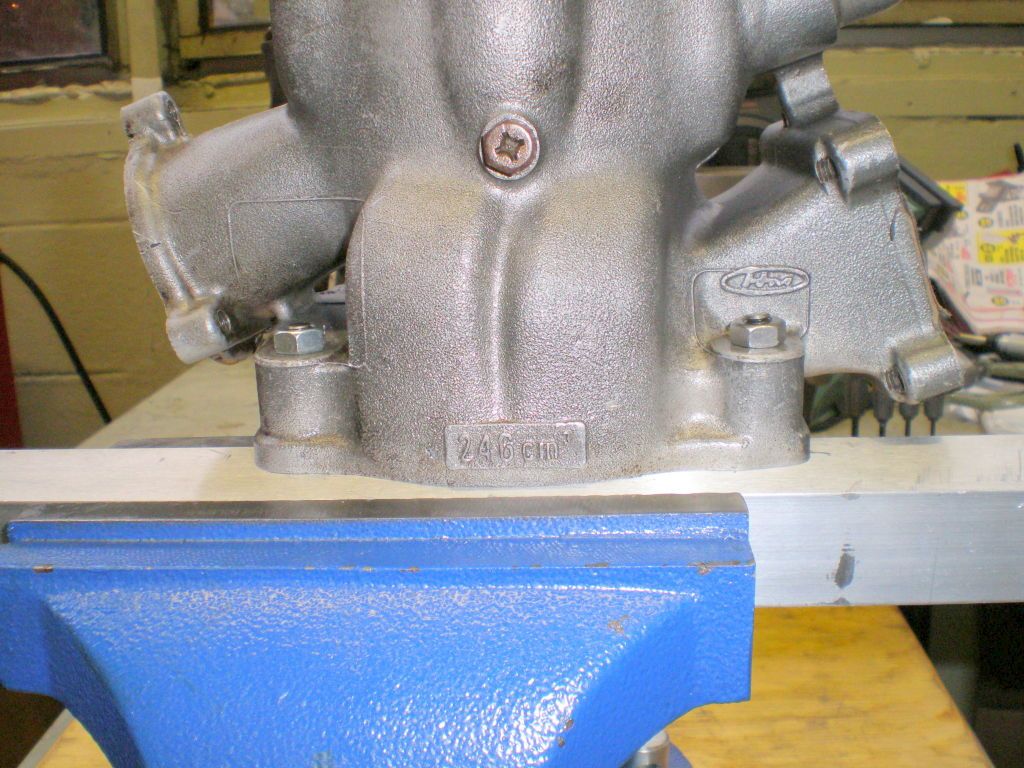 Pulling a rusty grommet can be a tricky thing to do. I use a set of punch centers to fit in the grommet, then clamp and pull with a Vice Grip.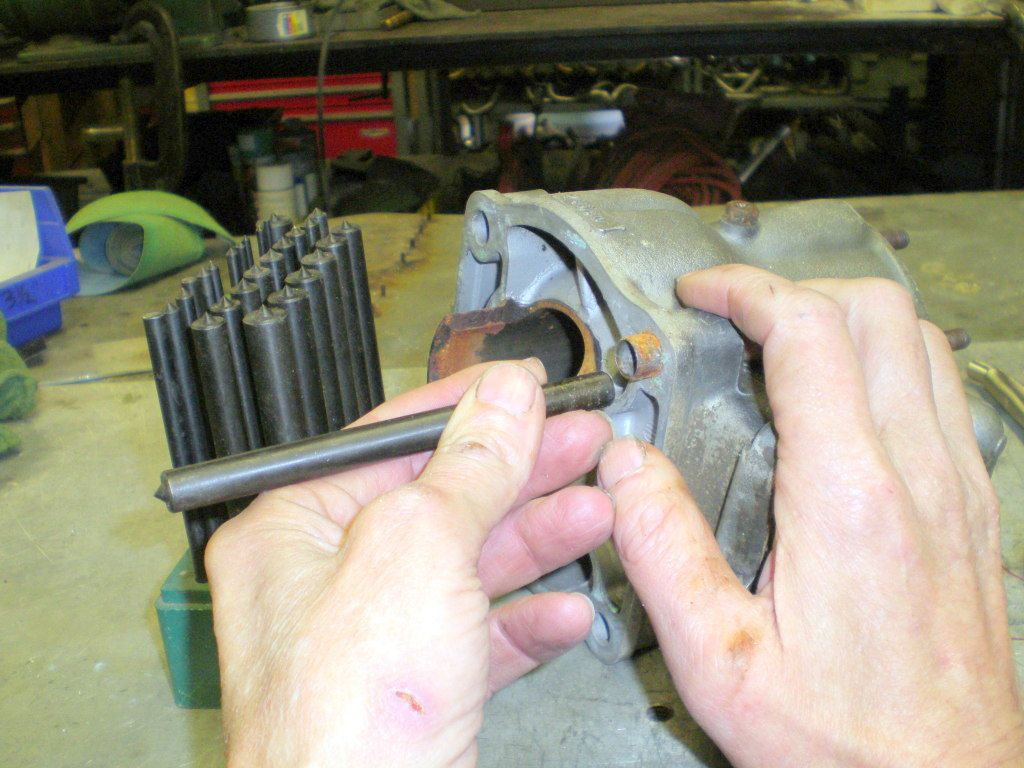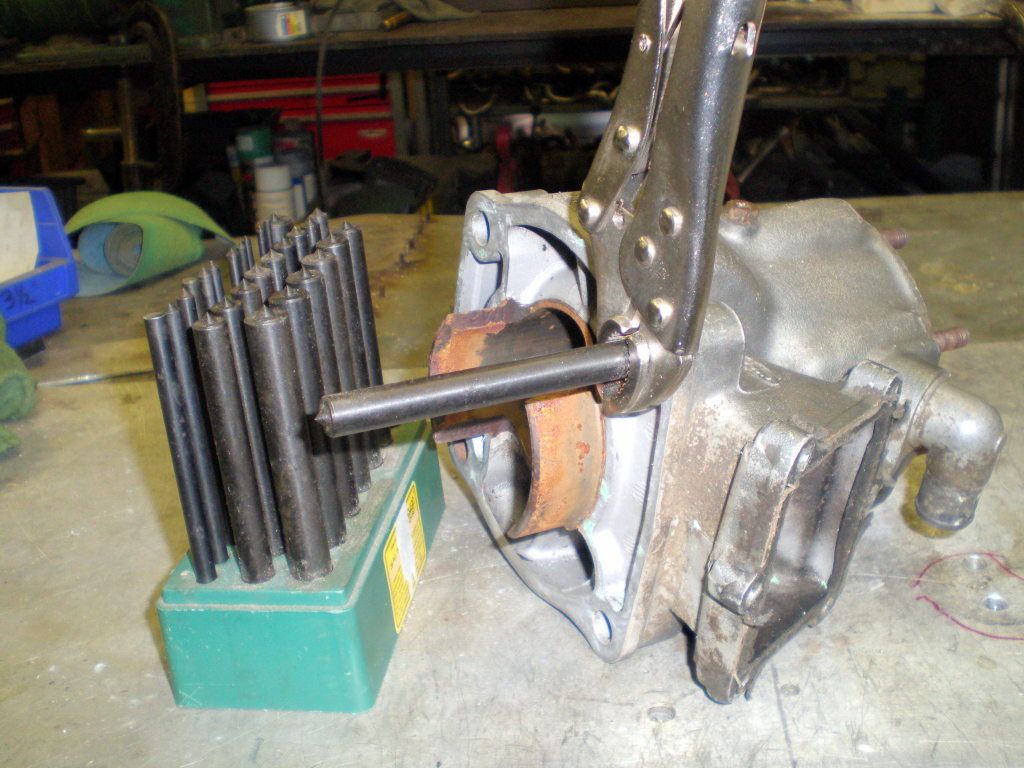 Next is pulling the Head Bolt studs.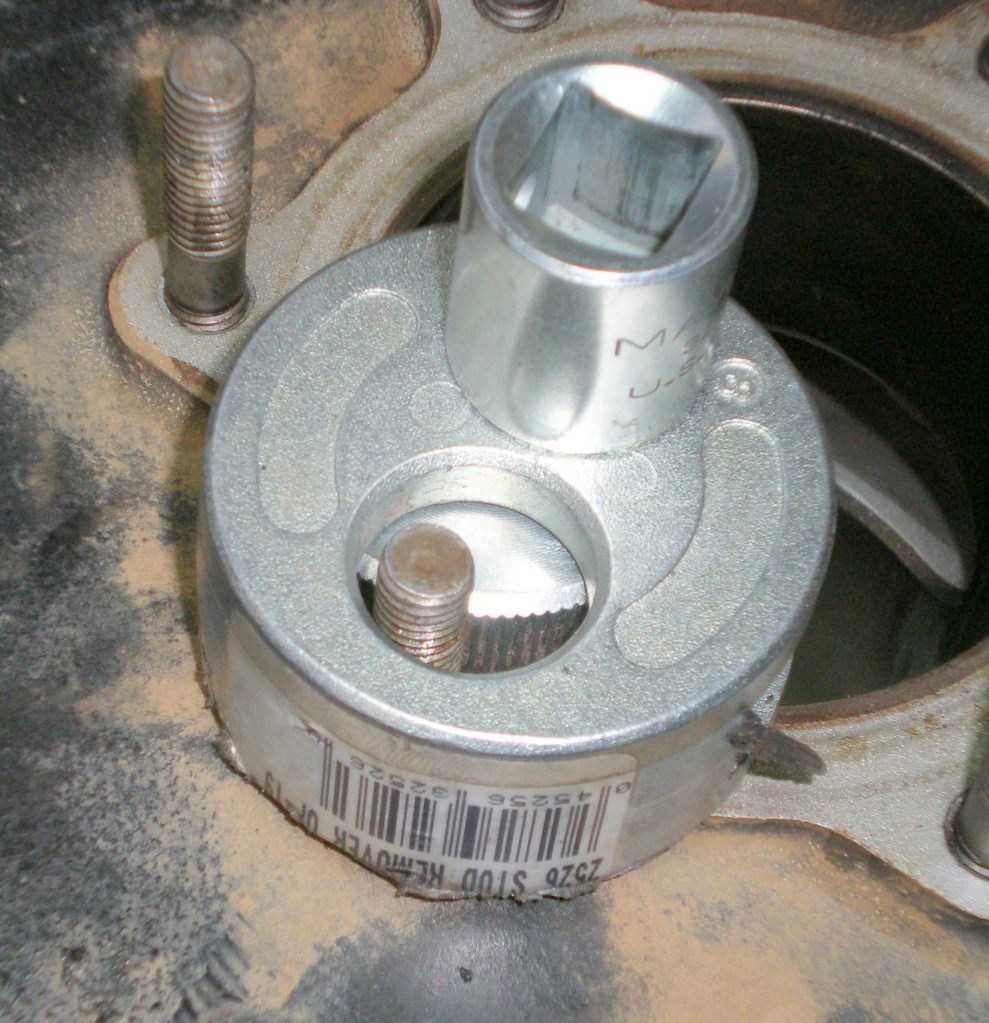 When all the studs are pulled, they should probably be replaced with new ones.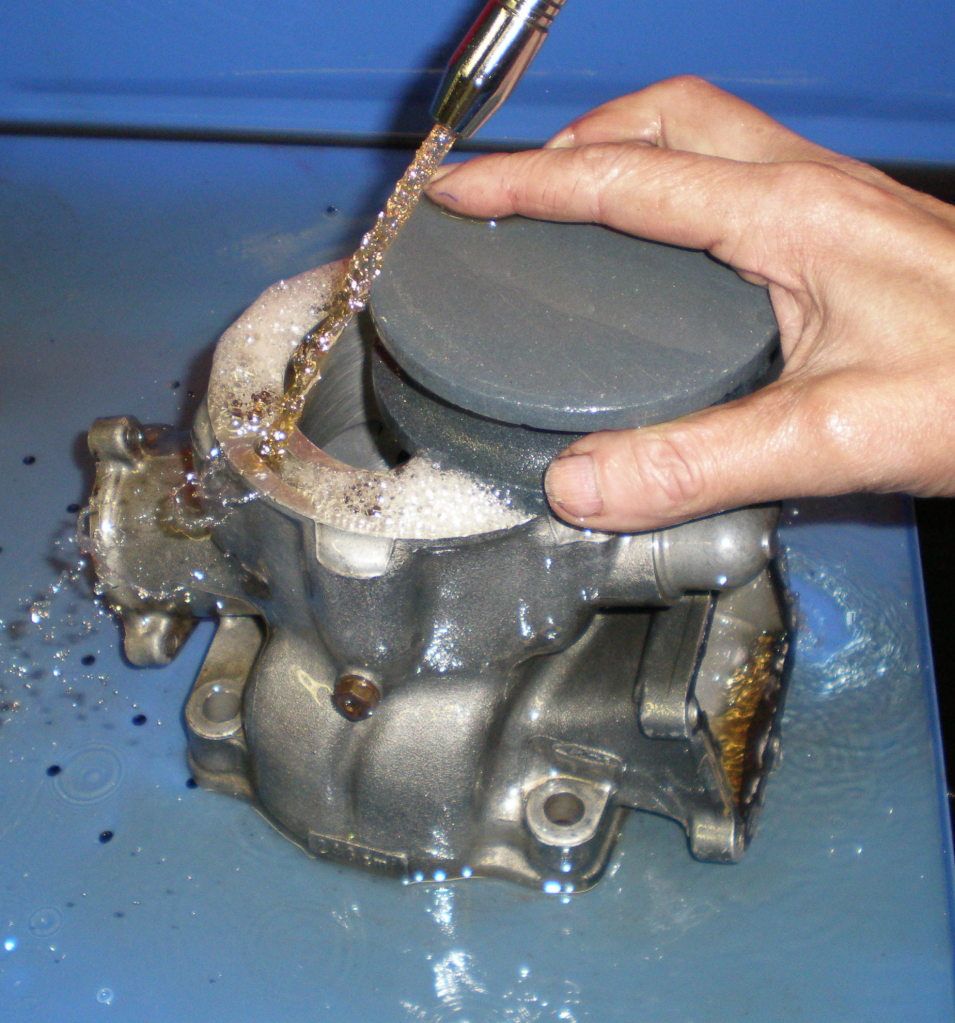 The Top & Bottom gasket surfaces can be finished Flat with an Oil Stone & good sharp File.
 Next Measuring & Calibrating
I usually use a Micrometer, Telescoping gauge & Dial bore Gauge. (Photo's in Last Weeks's comments)
The first step is to accurately measure the piston diameter.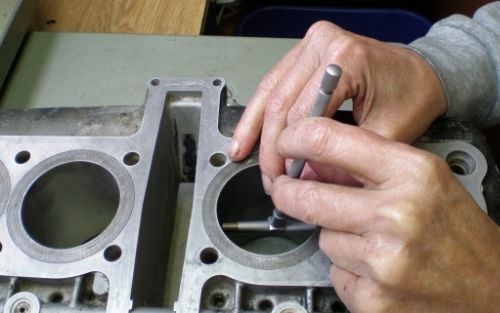 Carefully measure up & Down the piston 90deg. To the wrist pin. Some of the older Blue
Box Wiseco pistons had a "Belly" about 1/2 way down. Always write down your
measurements for reference.

Use a telescoping gauge to get approximate measurements of the bore.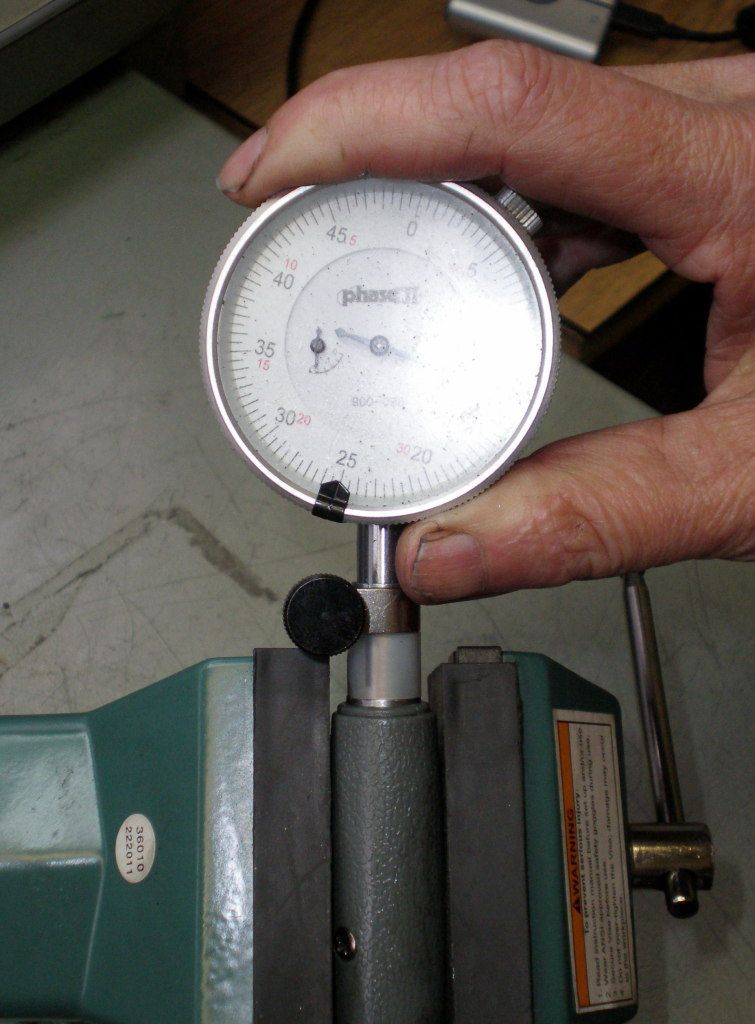 Next week we'll work on honing techniques. I think that others will agree with me
that the final fitting is far more important than the boring machine operation.
Cylinder Honing, Do's & Don'ts
Now day's with so many different piston manufacturers, skirt clearance is one of the most critical fits in your engine. Most of the pistons are forged and extremely strong. Much tighter skirt clearances & many more ports in the 2-Strokers makes the Hone Procedure even more important.
Ball Hone, Ammco & Lyle type hone, 3-Fingered brake cylinder hone
The Ball hone is good for final deburr and Plateau finishing. Ammco type hones do precision honing.
Ammco type hones are a good start until a shop steps up to a power machine. The 3-Finger brake cylinder hone has no place when working with 2-sroke cylinders. 
Brush Hones purchased from Wiseco. Best choice for Plateau Honing.
It was suggested from a friend to use this hone while running the drill in
A reverse direction.

Cylinders with Too many Ports: When your honing a 2-Stroker and the hone goes
"Clickity Clack" like a Rail Road Train, Your in for trouble with that
Precision skirt clearance fit. I'm sure most of you have had this happen. You either need
longer stones or more stones on the hone head.
Sunnen stones are 4" long and may not be enough for a cylinder with all of the ports.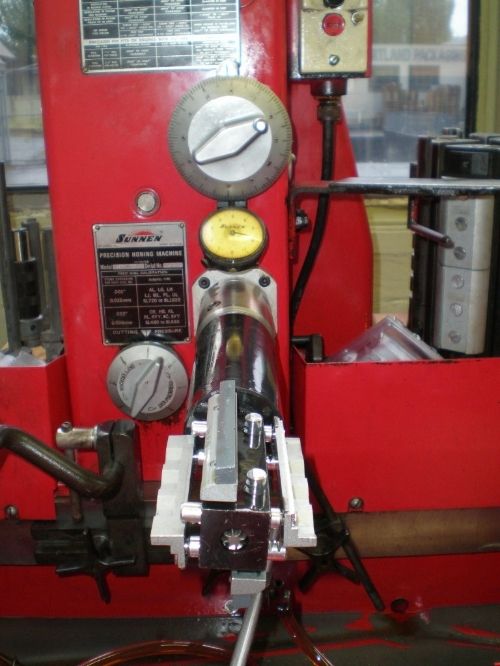 Sunnen manufactures Bench top machines & stand alone Commercial equipment. These type of machines are manufactured for commercial Connecting Rod sizing.
    v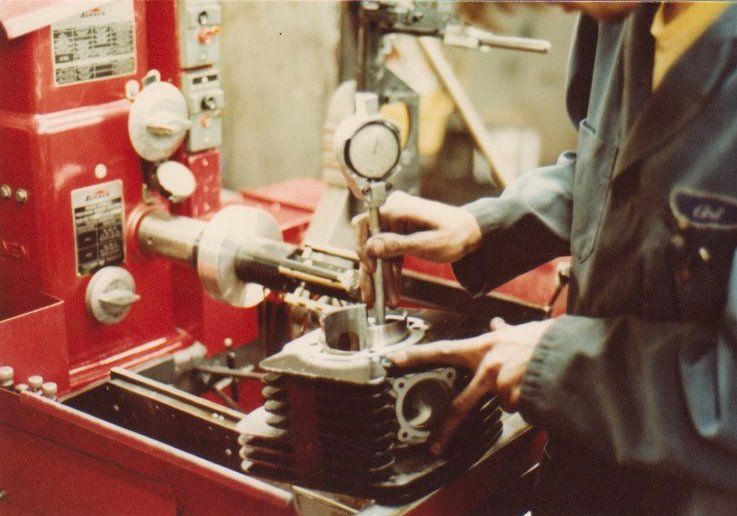 Our old shop had a Sunnen Power Stroker machine. The power stroker didn't turn out to be very practicle for one at a time cylinder work.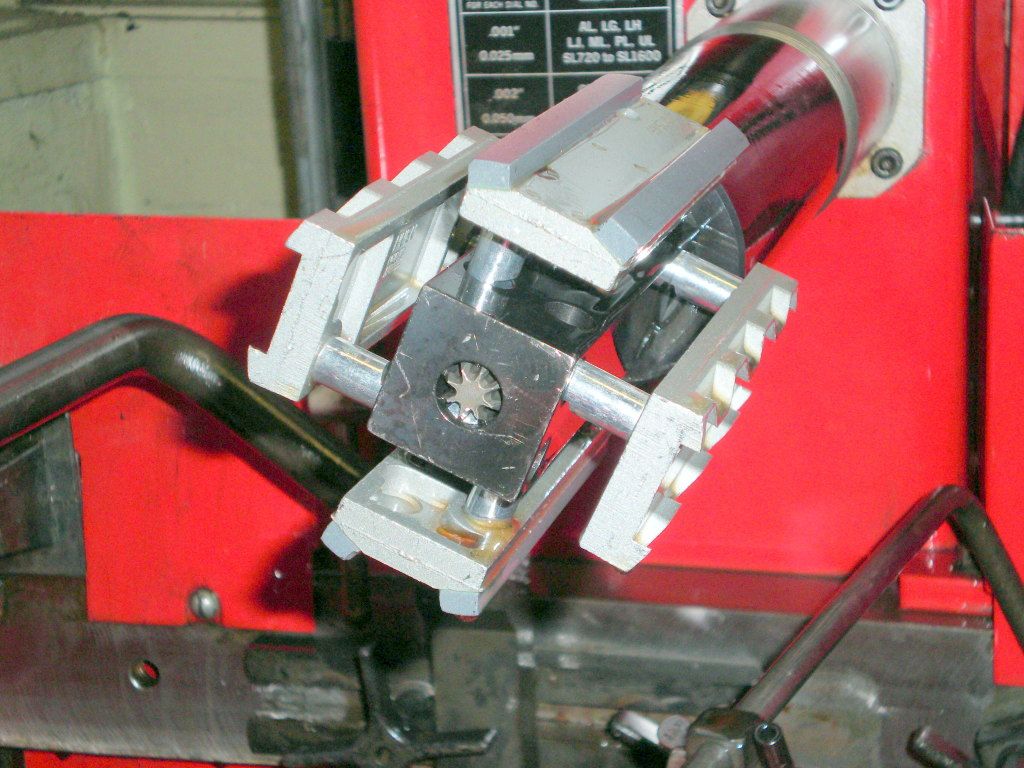 The Double Stone head set up: This Double Stone head was designed to hone Splined
ID"S. It works wonderfully in 2-Strokers with all of the ports. The double stone head turns out to be our every day 2-Stroke unit. This type of head gives us the most consistant accuracy.  

 Hone stones usually need to be dressed "Sharpened" to maintain a smooth and
accurate cut. A supplied diamond dresser, file card or stiff wire brush all work well.
When the stones are sharp, they make a distinctive shearing sound when stroking.
A torque bar on the left side support multi cylinder blocks. It's best to use a manual
Hone with your bench vice when sizing 3&4 cylinder blocks.
     This is a little off subject but one of my projects for today is an .080", 2mm bore job on an old 160 Honda twin
 All of the tools that we talk about are available on EBay if you look. Think about investing in your quality tool box. Micrometers, Dial bore gauge, & a quality hand hone. It may take a while because of the cost but it won't break you. Check for Ammco or Lyle hones. You can pick up a used Sunnen hand hone for a few hundred bux. I purchased my set of Brush hones from Wiseco. If your only doing a cross hatch job, the brush hone is the best choice. Brush hones never wear out they just wear down for a smaller bore.
The Dial bore gauge is available from www.cavcosales.com . Cavco is my major equipment supplier.
  How strong is that Forged Piston?
  There seems to be interest in the strength of Forged vs. Cast Piston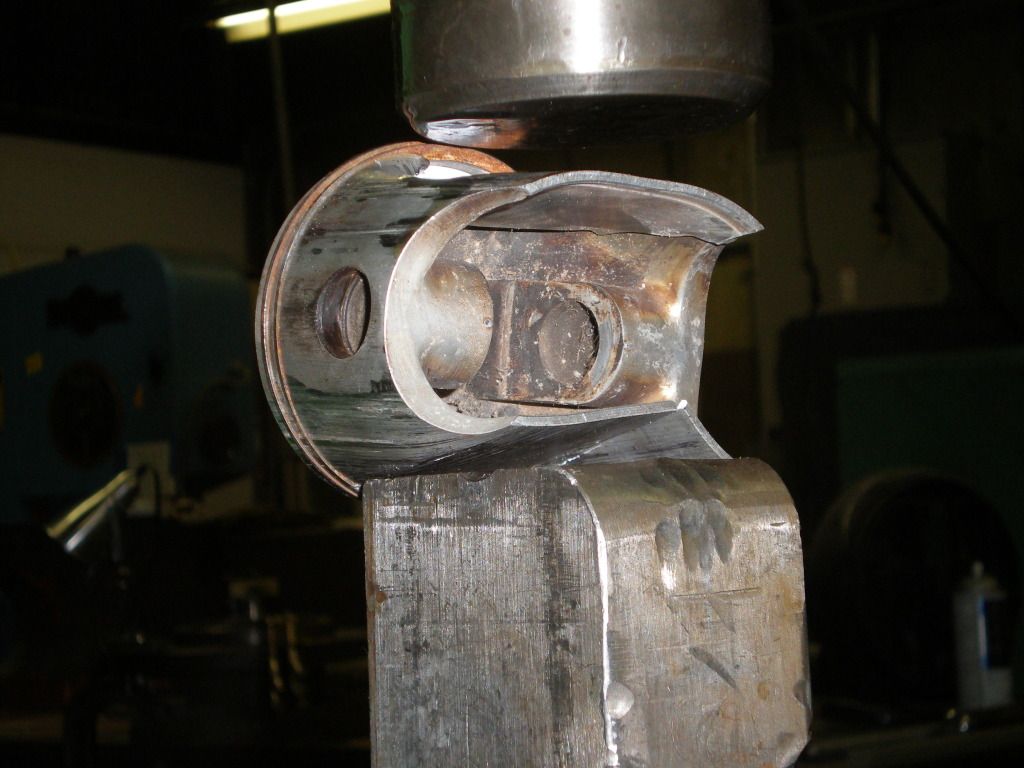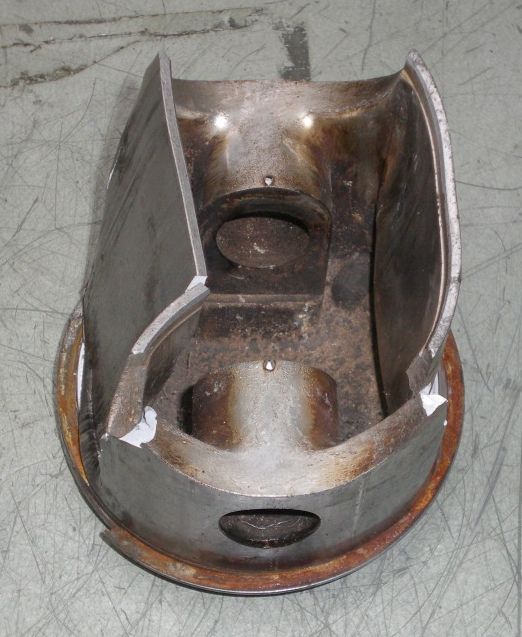 This test was done on our 60 ton Shop Press. The sample piston is an 80mm used Forged piston. The test gives us an example of how incredibly strong a forged piston really is. The piston didn't start to crack until it had around a 40 ton pressure against it.
YEA for Wossner & Wiesco Piston 

The next picture is a stock OEM Japanese piston. The piston had less than 1 ton of pressure before it failed.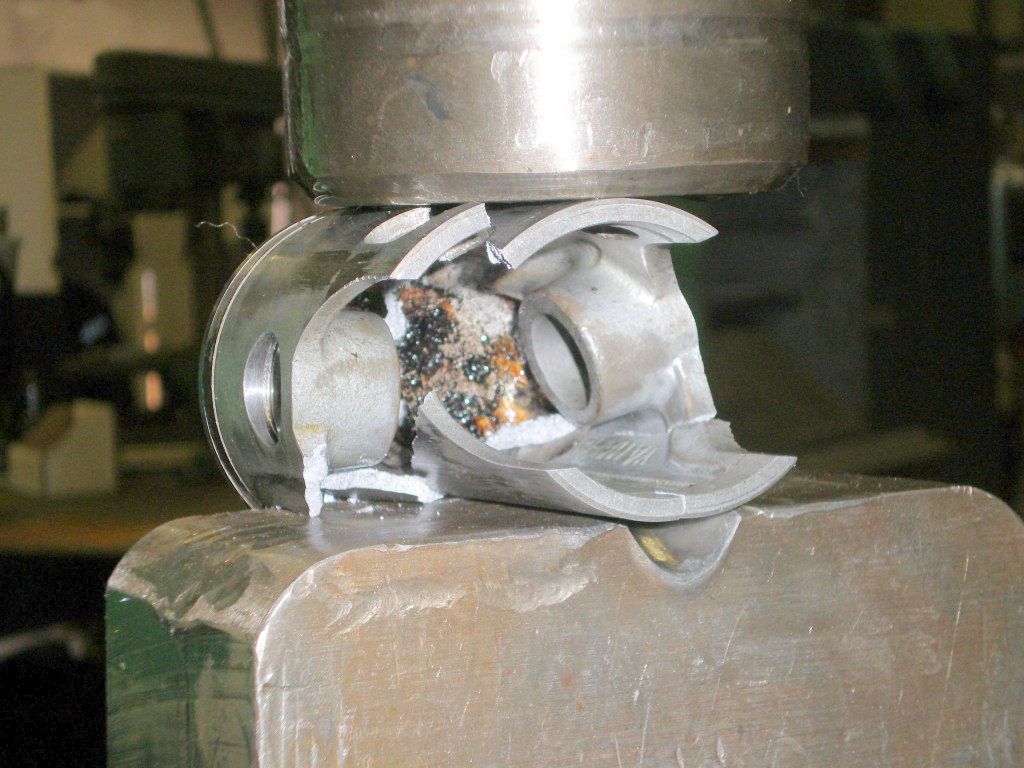 Montessa Reed valve     7-14-13

Our big bore 165cc Montessa also needs a Reed valve in an attempt to bring it up to date somewhat.
I spent a good part of the day hacking on a chunk of aluminum to turn it into a reed valve block. Our project reed mount was constructed only on my manual milling machine. With a little forethought any person can do this kind of workmanship on entry level equipment. You don't need any fancy CNC Woop-T-Doo machinery to craft quality parts. I'm attempting to encourage any of you people to add some machine shop capabilities to your work shop. As your capabilities grow so will your business grow.

It takes time but certainly is rewarding to me. Maybe a TIG welder first, Lathe, mill, & Cylinder service equipment, my family has always been lifelong machinery junkies. Any of you can do this too.

     After the block was squared up to approximate dimensions the reed cut out hole was laid out with scribe lines.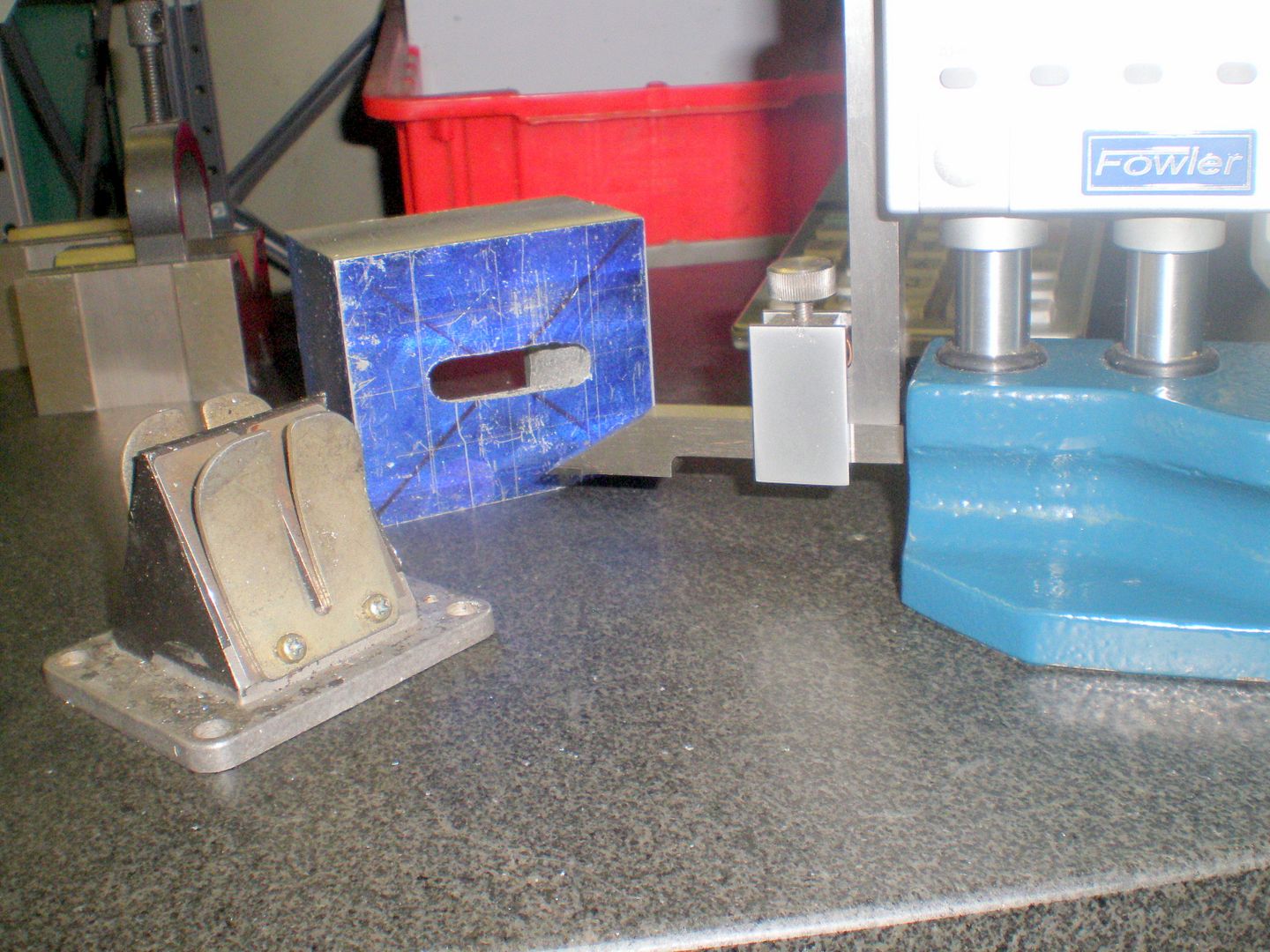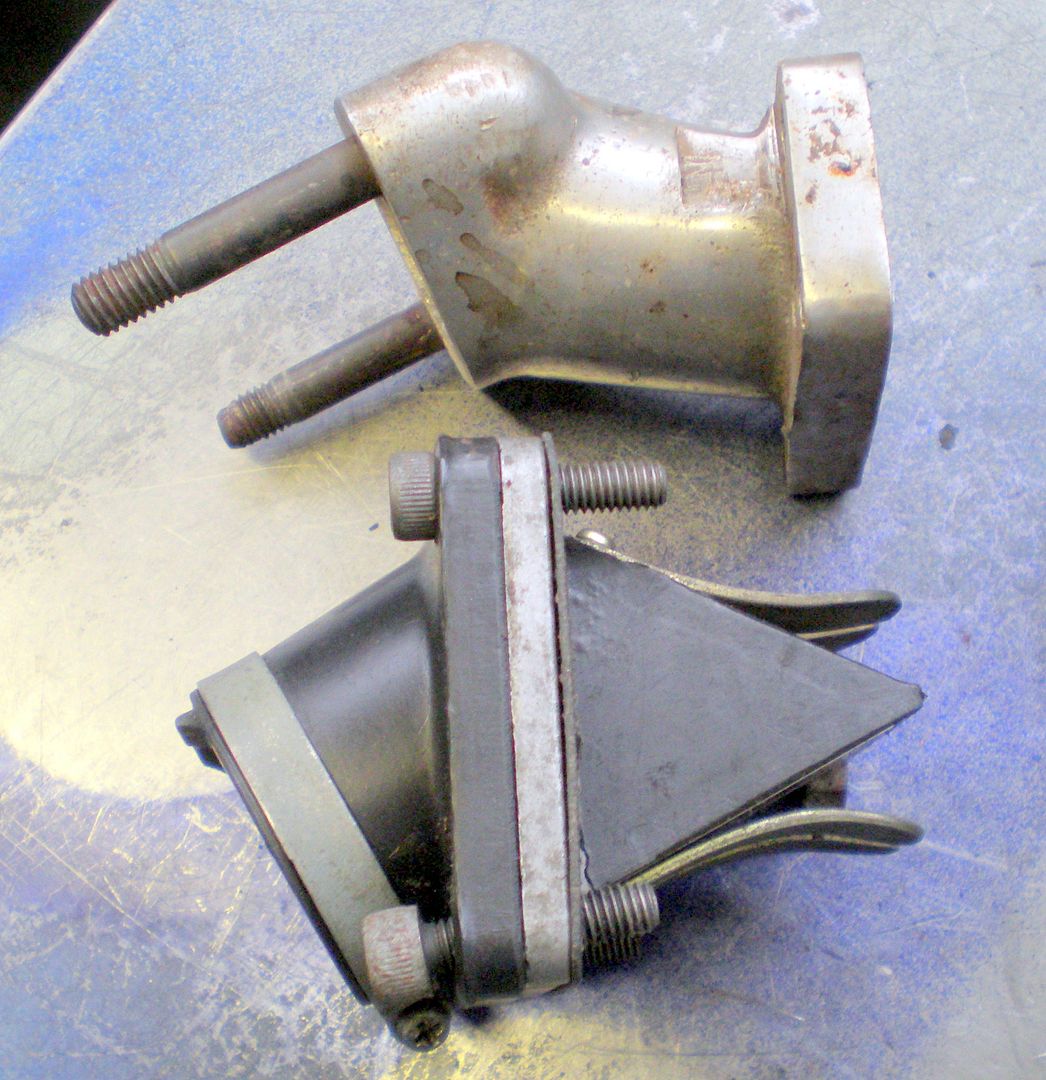 The old intake manifold was laid out to compare it with the new reed valve. It seems like a fairly easy angle to duplicate.

There are 2 parts to this project, 1. Machining the reed block & 2. Machining the back side of the cylinder to accept the reed block.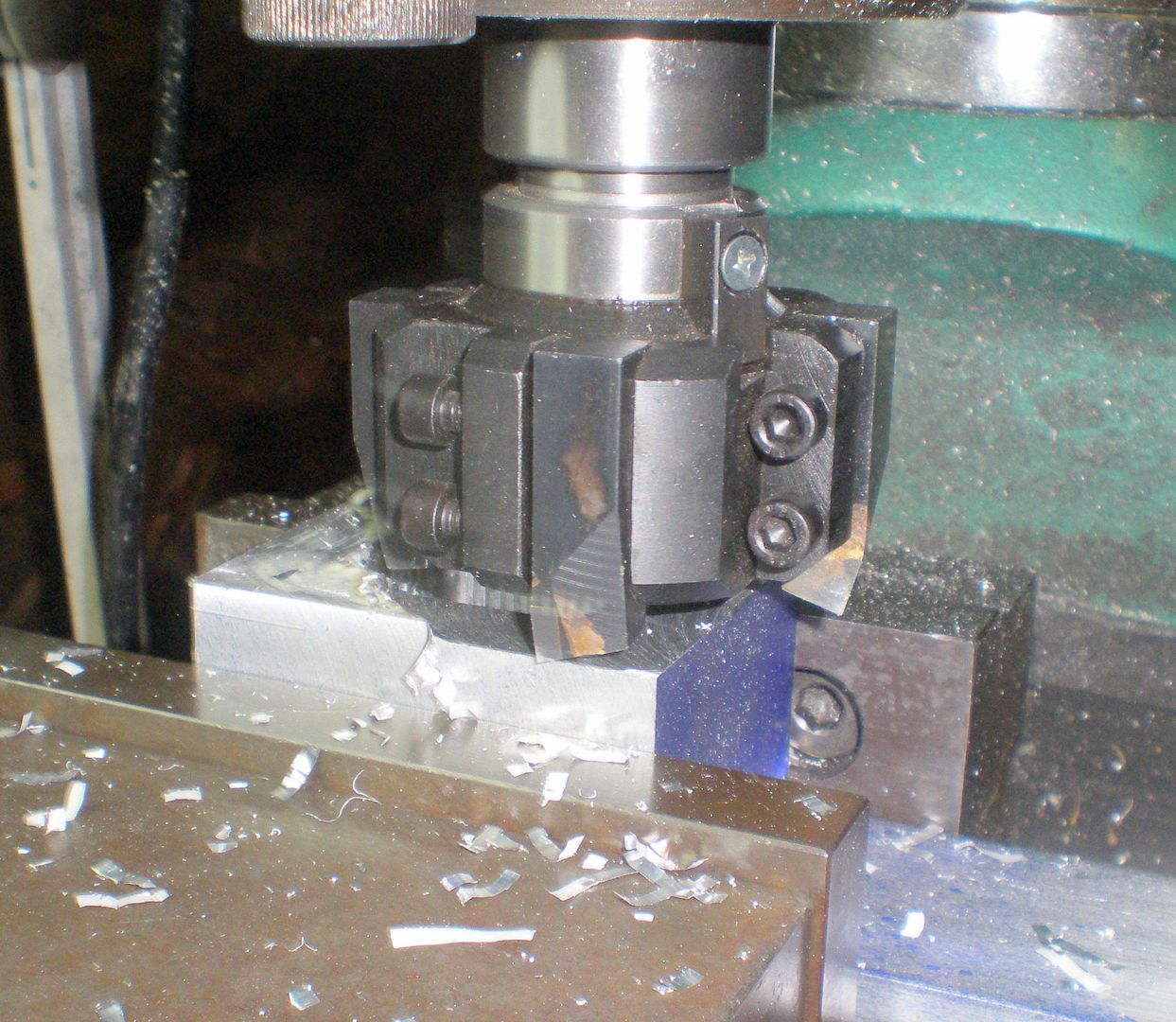 This mill Fly cutter & a Drill Chuck came along with the mill. What a value & a wonderful addition to your shop facilities.


Along with a considerable amount of time this reed block was crafted & ready to mount up on the cylinder.  This light weight milling machine takes cuts in little steps but works just fine.
A closer look shows a nice velvety finish on the reed block. The part spent 2-3 hours in the vibratory machine.
The end result is a nicely crafted manifold which will accommodate both a 175cc single reed & a reed from a 400cc twin. The 400cc reed is illustrated in this photo.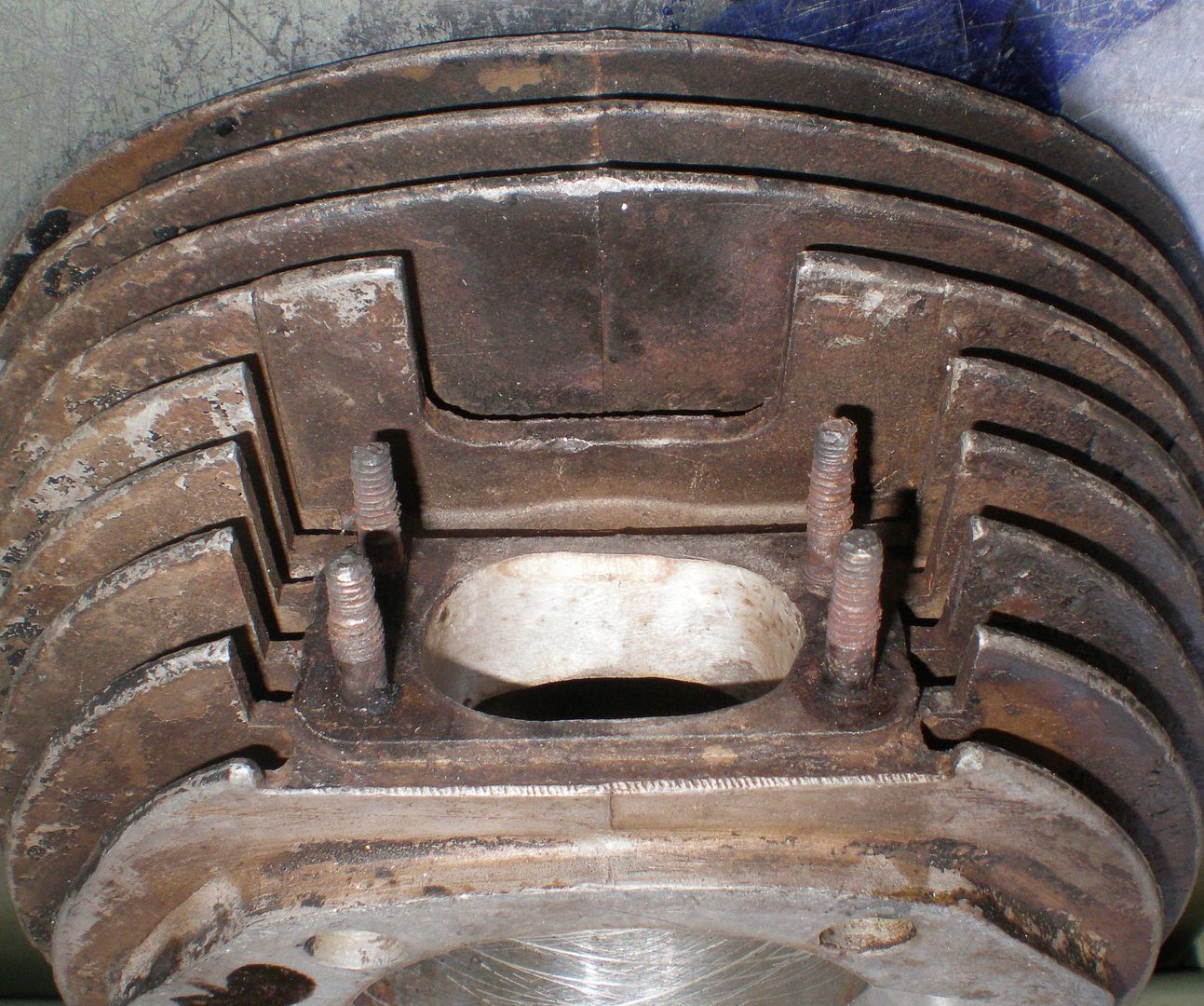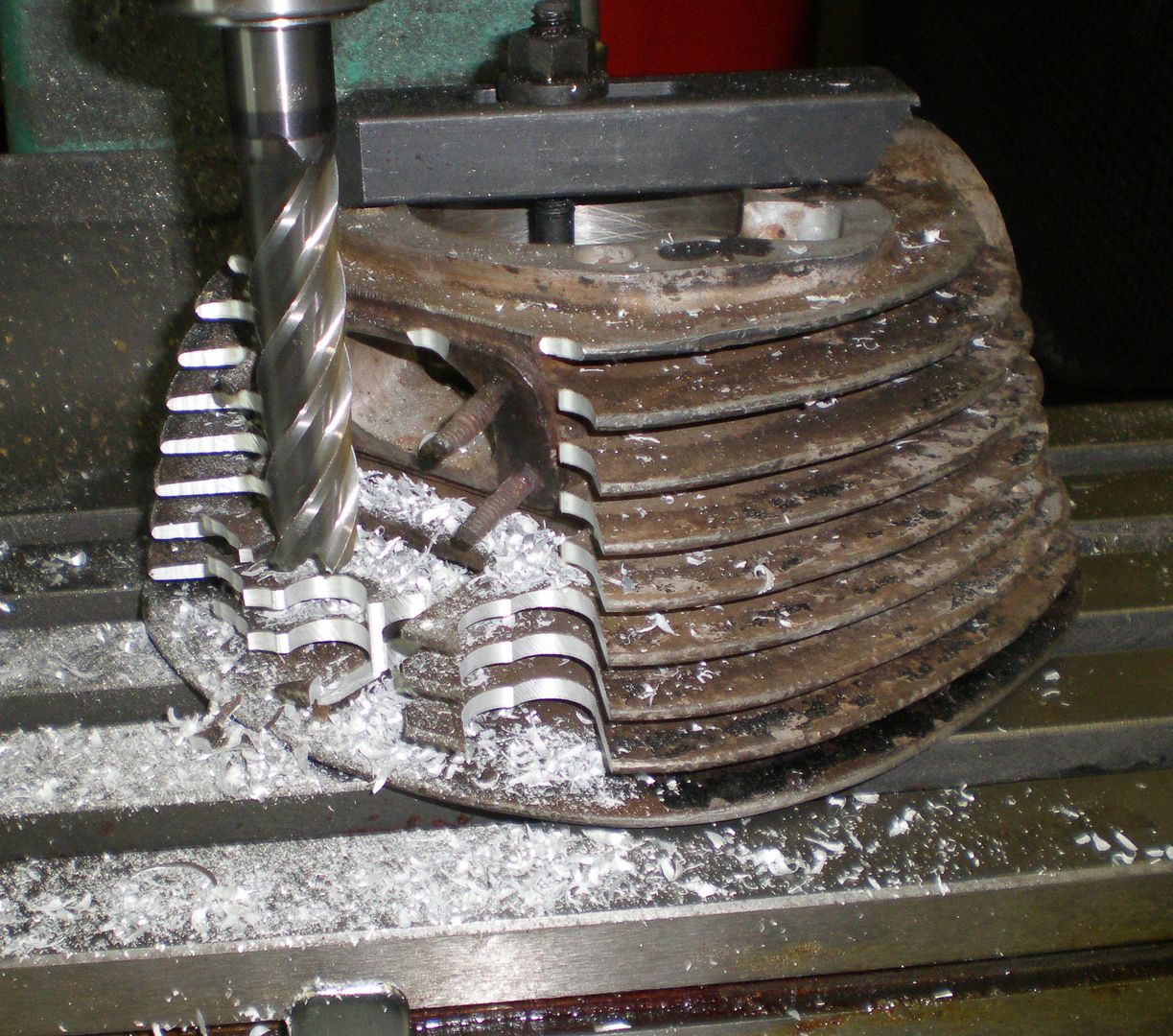 Next the intake side of the cylinder is machined to accept the new manifold.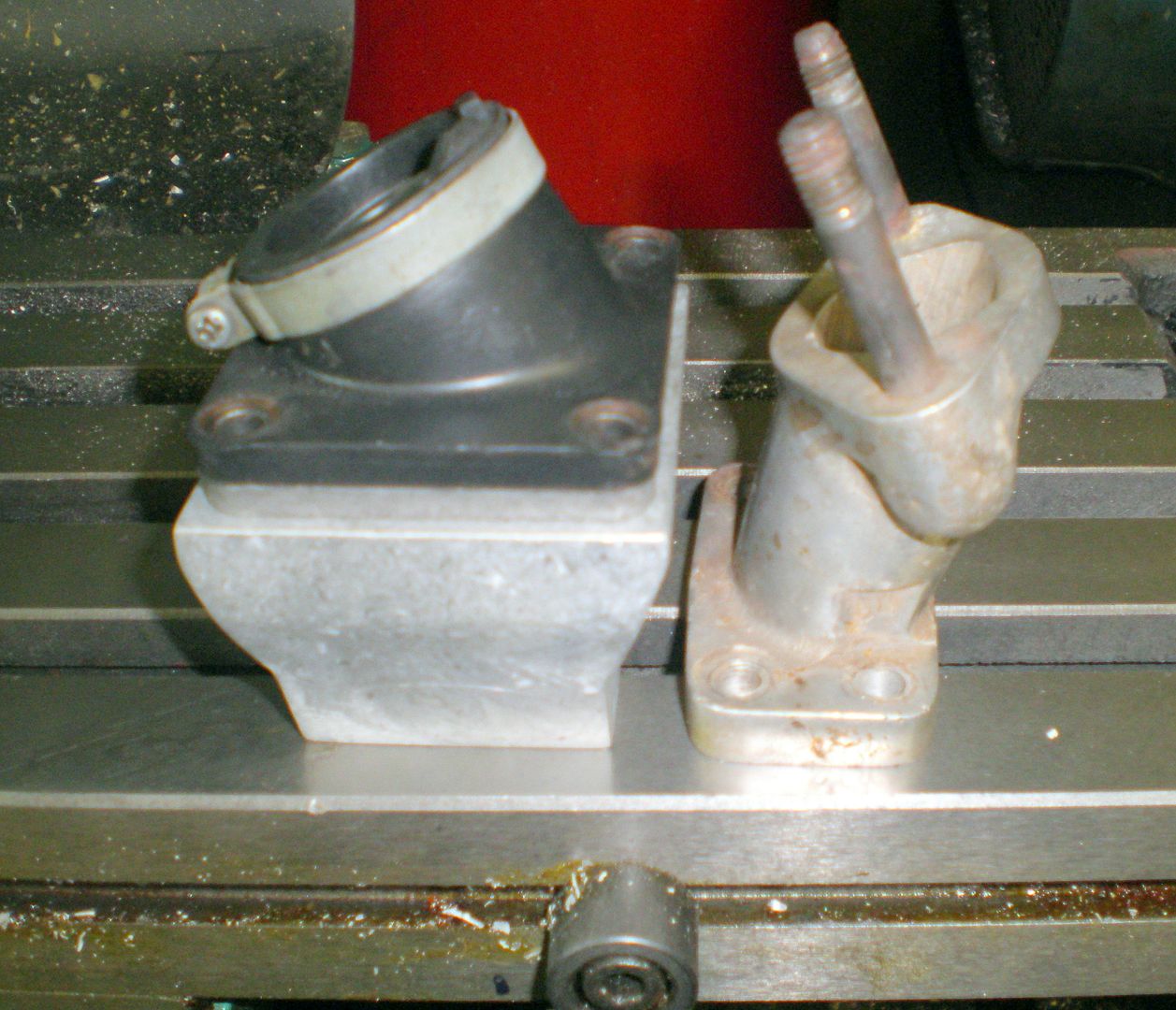 The new arrangement is close to the original. We'll do final fitting before welding it on.

It took some thinking to figure out how to clamp the cylinder to the mill table. There are a couple of things which limit the machine. 1. The head doesn't have an angle tilting capability. 2. No break on the spindle. The lack of a spindle break is more of an irritation then anything else.  


Small bites must be taken while machining, the lack of HP limits heavy cutting abi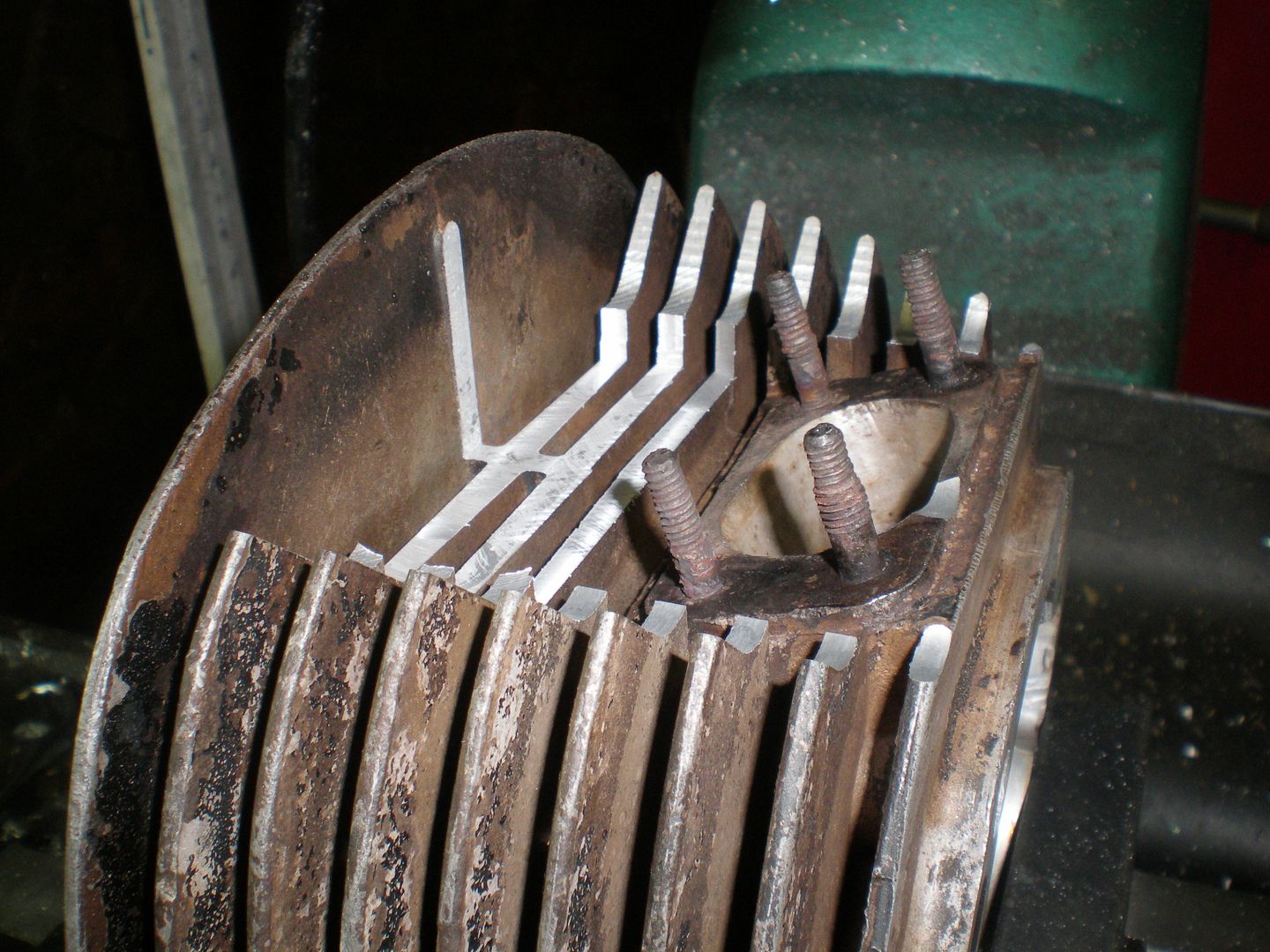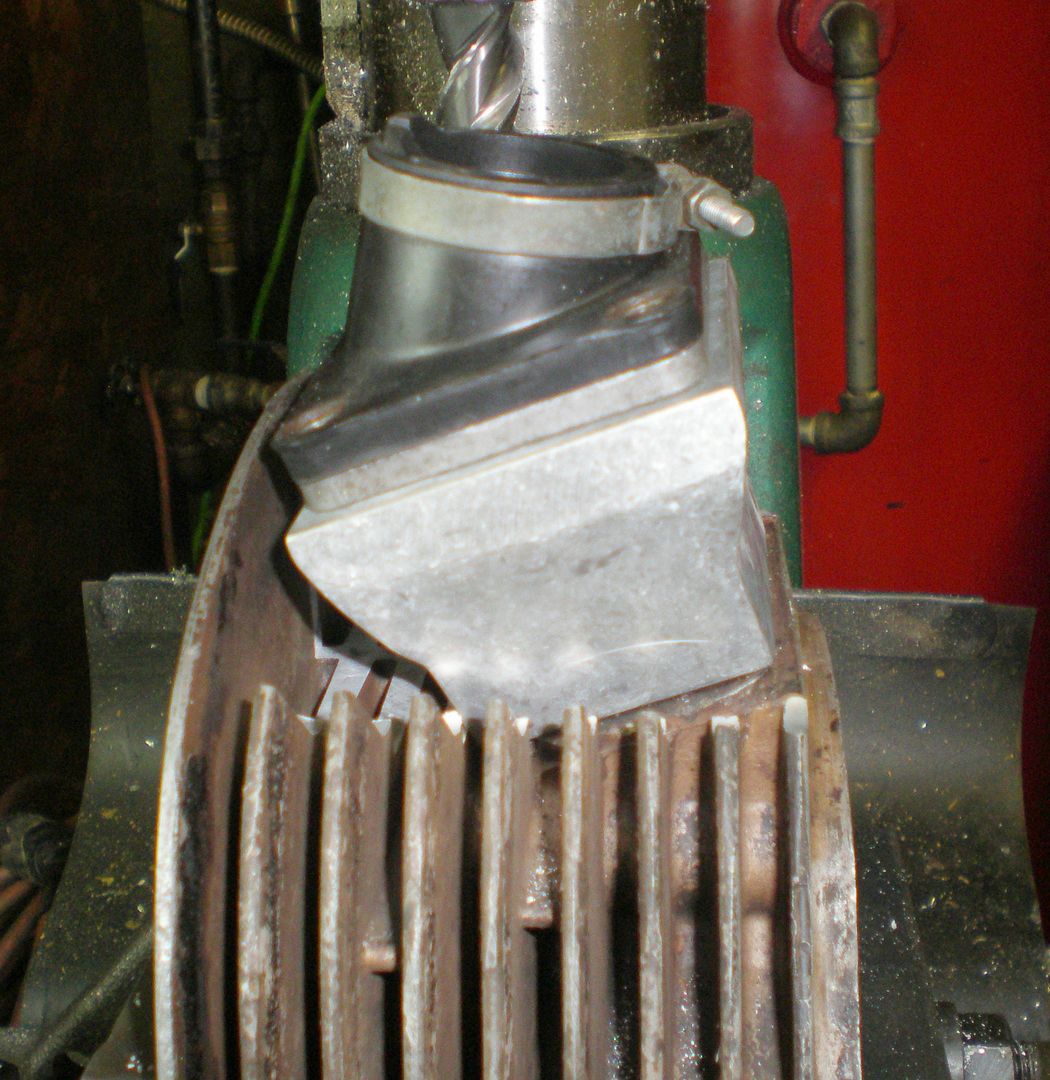 The finished installation should fit quite nicely. The last little problem is the need for enough clearance around the manifold for the TIG welding torch. Next week we will start putting things together.

After the reed installation we need to finish up the liner install. The plan is to change to a triple exhaust along with the boost ports in the rear. The port timing will be a compromise between existing & what Mr. Bell would recommend. Changes like this project are a good reason why not to have a cylinder plated. There is always a good reason for both & either way could be the faster. Every tuner will have their own way of doing things. Nobody is always the best.

If  you read my thread you will learn about machine shop procedures which you won't learn many other places. I write this column because of my wish to pass along information to the next generation. If you're not interested then go elsewhere. There are some very foolish people on our E2S site who wish to wreck this for everyone else. Please don't bother to respond to them & eventually they will go away.


 The Kwik Way for the Cycle Shop
I've been around the Kwik Way brand for the bulk of my adult life. There are also the Rottler & Van Norman machines which are also around if you look for them. If you're looking for a boring bar & the latter 2 are available, they are all top quality pieces of equipment. I was introduced to the Kwik Way brand back in the 70's & have never had any reason to switch to other brands. Sadly but for good reasons these machines are no longer manufactured. 1. The market has been saturated over the years. 2. They don't wear out. Each machine is an Oldie but Goody,With its own personality.

Each manufacturer has produced a special stand for their machines but I prefer to make my own.
[URL=http://s1152.photobucket.com/user/johntice1/media/P4010042.jpg.html][IMG]http://i1152.photobucket.com/albums/p497/johntice1/P4010042.jpg[/IMG][/URL]

It's nice to have a stand large enough to be able to slide the machine around, also have the ability to mount multi cylinder blocks over a slot.
[URL=http://s1152.photobucket.com/user/johntice1/media/P6270242.jpg.html][IMG]http://i1152.photobucket.com/albums/p497/johntice1/P6270242.jpg[/IMG][/URL]

[URL=http://s1152.photobucket.com/user/johntice1/media/P4030053.jpg.html][IMG]http://i1152.photobucket.com/albums/p497/johntice1/P4030053.jpg[/IMG][/URL]

We have in our shop 3 different sizes of Kwik Way machines; there is one smaller, the Colt which is an electric pneumatic machine that goes as small as a 1-1/2" bore diameter.
These are all top quality high precision machine tools; I don't recommend that anyone get involved without a minimum knowledge of machine shop operations. The cylinder boring machine is a tricky little bugger to get the hang of. Just when confidence is gained the machine will let you down & bite you in the butt by ruining a bore job. IMO, the main problem with a Kwik Way is the micrometer anvil which gets all scratched up causing inaccurate size settings. Every machine has its own little quirks & each set of tooling needs to be kept separate.

Model FWS; the smallest of the full sized machines
[URL=http://s1152.photobucket.com/user/johntice1/media/January%202015/P1011540.jpg.html][IMG]http://i1152.photobucket.com/albums/p497/johntice1/January%202015/P1011540.jpg[/IMG][/URL]
Size range; 1-3/4" – 3" The micrometer goes to larger diameters but the largest set of centering fingers limits the machine to 3"

Model FW; size 2-1/4" – 4" 
The model FW uses the same set of cutters as the FN
[URL=http://s1152.photobucket.com/user/johntice1/media/January%202015/P1011539.jpg.html][IMG]http://i1152.photobucket.com/albums/p497/johntice1/January%202015/P1011539.jpg[/IMG][/URL]
Will go down to a 56mm bore; stuffing the spindle into this small a bore makes measuring difficult with a dial bore gage. I sleeved a 4"+ Franklin aircraft engine which was quite a stretch for this machine.

Model FN; Size 2-3/4" – 5"
[URL=http://s1152.photobucket.com/user/johntice1/media/January%202015/P1011541.jpg.html][IMG]http://i1152.photobucket.com/albums/p497/johntice1/January%202015/P1011541.jpg[/IMG][/URL]
The FN model is a heavy duty robust machine, heavy duty centering fingers with a larger micrometer.
All of the Kwik Way machines have the same size of drive motor. I limit our machines to finish cutters with a maximum tool depth cut of .025" per pass. Many of you may take much heavier cuts per pass with your machines; I prefer to pamper my equipment & not get in a hurry. Since I'm now retired, I'm not in a hurry as in earlier years. I also operate the machines while alone with no distractions or interruptions. The minute a conversation starts, it's time to shut down the machinery.

[URL=http://s1152.photobucket.com/user/johntice1/media/P1011551.jpg.html][IMG]http://i1152.photobucket.com/albums/p497/johntice1/P1011551.jpg[/IMG][/URL]
Left – FN, Right - FWS; Examples of different spindle diameters. The FN model has another 6" of dept capacity.

[URL=http://s1152.photobucket.com/user/johntice1/media/January%202015/P1011474.jpg.html][IMG]http://i1152.photobucket.com/albums/p497/johntice1/January%202015/P1011474.jpg[/IMG][/URL]
I have a bad back & am unable to do other types of work. Boring & sleeving is our only business; I can do the majority of my work while sitting down in my office chair. Look beneath to the lower shelf; the tool boxes are stored for each machine. 
Presently our production set up is; 1-FN, 1-FW & 2-FWS's. A quick & accurate turn around on mail order work makes the customer happy.

 
When I operate this equipment I learn something new each day. Know body is the best with this type of machine; We can all make a mistake, just ask anyone who does this kind of work. A good operator is careful & consistent. We have an extra model FW for sale with stand. [url]http://www.smallenginemachineworks.com/parts__equipment_for_sale[/url]

I believe that the model FWS is the best choice for the first machine. You can bore everything from a YZ80 to the large thumper singles. Anything at the rite price is obviously your first choice. Don't forget that the boring bar is ½ of the equipment that you need to bore cylinders. A good Sunnen hone is a more sensitive & accurate machine; also many times more expensive. This is a lifetime adventure; take it slow & easy, it's a joy to watch your investments grow.

Another place to search for automotive machine tools is [url]www.cavcosales.com[/url] Dave & Cindy have been our major supplier of Kwik Way & Sunnen equipment. 

Stay Tuned

[url]www.smallenginemachineworks.com[/url]

John Tice 503-593-2908  The "Old Dog"  :Smoke: